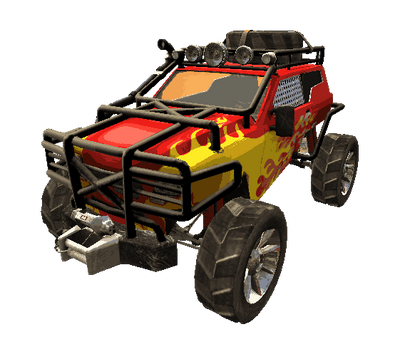 Burstrider
Unlocked
Redrock Bluffs
Cost
40915
Speed
Acceleration
Grip
Brake
Reliability
Asphalt
Off-road
Max Speed
100mph
Basically, Knightmare v2.0 (like Knightmare, but with faster acceleration, turn-response, and higher top speed)
Built like an SUV, but handles a lot like a Buggy (for better or worse). Decent handling, a bit fish-taily on the drifting, but overall agile and responsive.
While it's pure off-road and has a higher grip stat than the Sabretooth, it's not as good of a hill-climber as the Sabretooth and seems to have worse handling on dirt-roads than when off-roading out in the weeds.
It's one of the most resistant vehicles in the game, being also one of the best vehicles to go down-hill.