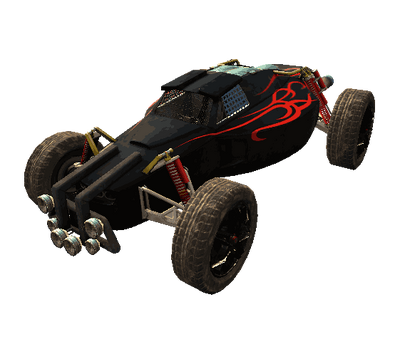 Dragonfly
Unlocked
Tsunami Reef
Cost
4640
Speed
Acceleration
Grip
Brake
Reliability
Asphalt
Off-road
Max Speed
114mph
Fun little buggy to go drifting on streets with, but its limited top speed & "drifty" grip can be frustrating.
Hugs minor asphalt curves like a street bike, but flies into "drift" mode a bit too severely on tighter turns.
The variance between asphalt and dirt road performance is striking, and can make for a frustrating time switching between the two.
The Dragonfly follows the "slow down to 1/2 speed to drift tight corners" rule of thumb. If you stick around 50mph to corner you should be ok. Dirt roads may need a bit more letting up of the gas and turning into it sooner rather than later like asphalt.
Avoid off-road at all costs, as the grip on this vehicle is troubling even on dirt roads.