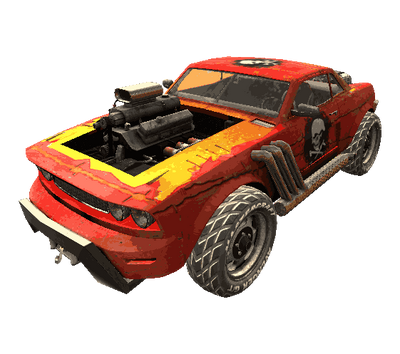 General Custer
Unlocked
Drownington Cove
Cost
14540
Speed
Acceleration
Grip
Brake
Reliability
Asphalt
Off-road
Max Speed
95mph
One of two muscle cars more suitable for dirt & off-road, it is highly recommended to buy
Modeled on a combination of early "Ponycars" (EG: Mustang, Camaro, Etc.), probably with a V6 engine.
Although off-road-specific, don't let that lull you into a false sense of security. Like all muscle cars, it's prone to drifting out of control when not on some kind of road (street or dirt). It can maintain a higher speed when off-roading than mixed or street cars, but its main purpose is dirt-roading. It hugs dirt roads far better than most muscle cars, making it easy to control in a race.
Unfortunately it's not a good hill climber, needing sufficient momentum to get up steep dirt road inclines.
Its lower top speed means that while you have an advantage on cornering in dirt roads, a street or mixed muscle car with higher top speed can still beat you in a race if handled well.
While the vehicle itself doesn't resemble it much, the name seems to be a reference to the Duke cousins signature '69 Charger, the General Lee.

The name Custer is a possible reference to George Armstrong Custer, a US army officer who was killed in the Battle of the Little Bighorn.