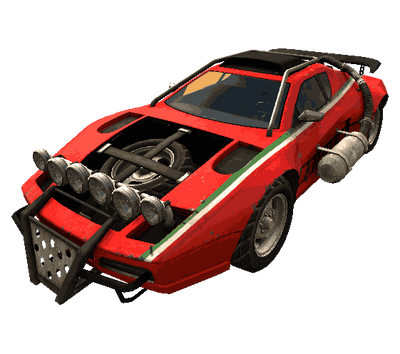 Sidewinder
Unlocked
Rainier Peak
Cost
86935
Speed
Acceleration
Grip
Brake
Reliability
Asphalt
Off-road
Max Speed
132mph
Wild Wolf's big brother, the exterior mimics the 1970's rallycar icon, the Lancia Stratos, and also takes some design cues from popular Ferraris of the late 70's to early 80's, such as the Ferarri 308 GTO (the Italian-flag-colored racing stripe down the side when you first get it helps suggest this, too)
While the rally parts may block the clean design for some, it appeals to others, provided that it completes the rally car appearance.
This is the fastest car in the game with the exception of the Damocles which is exclusive to its own event.
Street performance is amazing, with psychic cornering that chews through slight turns, and a wonderful, predictable drift that kicks in on bigger ones.
Dirt-road performance is almost the same as asphalt, so the transition is seamless. You'll have less top speed (as it bounces up and down more than a mixed or off-road vehicle). Turns are more drifting, but the Sidewinder's automatic drift is once again fluid and manageable. A series of tighter turns and hair-pins on dirt roads will show a noticeable loss in speed and perhaps control.
As with all street cars, off-roading is miserable. Short bumps across turns to avoid drifting on asphalt or dirt roads can be managed due to momentum, but longer jaunts should be avoided. If you fly off the course and end up in the weeds, it's probably faster to just hit your recovery key.