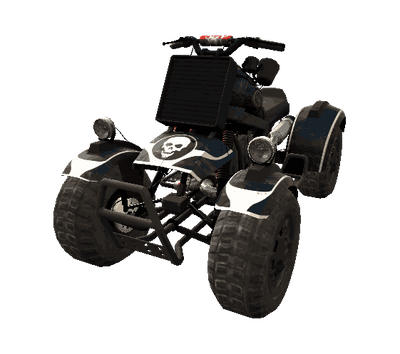 Stunthussy
Unlocked
Rainier Peak
Cost
77940
Speed
Acceleration
Grip
Brake
Reliability
Asphalt
Off-road
Max Speed
108mph
The Mosquito on steroids, the Stunthussy is your top-of-the-line, mixed-road ATV
Compared to the Doomsday, it has noticeably better acceleration, only slightly higher top speed (that extra bar isn't worth all that much), and looser handling / grip / control (even though they have the same grip value).
For use, it's a bit of a toss-up, mostly dependent on personal preference. The Doomsday has tighter control, making corners and drifts more manageable. The Stunthussy hits higher speeds faster. But, since it's better to use the Steelfang for street / dirt-roading and the Daredevil or Komodo for dirt / off-roading, it's a bit of a pointless decision.